When some of you read this the weather may be a bit cold, depending on where you live, so to help with your vitamin D levels (or to pretend to) we're going to head down to the beach to see what's going on. First let's focus on the healthy bit, we have a video of a babe in a green bikini teaching people how to workout. One way or the other, the video will surely work-up a sweat for most viewers, especially the ones here. She seems happy for the camera to zoom in close all around her perfect bikini body, and the YouTube analytics will know exactly who has been pressing the Pause button (all of us here, guilty as charged).




After the workout, it's time for another type of entertainment, UGotItFlauntIt are there to film a wet t-shirt contest which is taking place on the beach. We've got two photos of one of the contestants for you, if you click on either of the pics you will be taken over to the official UGotItFlauntIt website where you can see the full uncensored contest. All the girls there look like they're really up for a chance to show off their bodies for the crowd and try to win the prize, which is probably a wad of cash or a vacation. Also if you're not familiar with UGotItFlauntIt, the camera crew regularly find amateur bikini girls on the beach who want to pose and make some money, you never know if the girls will agree to go topless or more, so it's full of surprises and unpredictable, which keeps it highly entertaining of course. So below we've first got two preview screenshots from the wonderful bikini workout, the video is below that, it's 8 minutes in total and free to watch. Then, after, the UGotItFlauntIt wet t-shirt competition is next, with two free preview pics and then if you click on either of them you'll head to their website, which you can join if you wish to enjoy all of the uncensored antics and fun.






Now it's time for the competition, the girls have volunteered, they start by wearing a white crop-top and their bikini bottoms. As you can see, a crowd has formed, including females who look very excited about the sexy antics which are being anticipated.




The UGotItFlauntIt team do us all a great service when they get their camera crews out to these events to capture all of the daring and naughty fun which takes place on public beaches. When women are away on vacation they do things that they'd never dare to do when they are back home. Enjoy!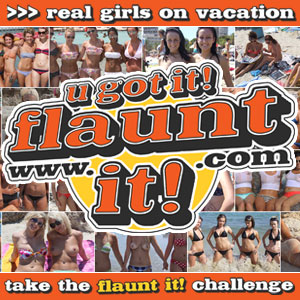 The post UGotItFlauntIt – Bikini beach workout video and another wet t-shirt contest on the beach appeared first on Sexy Girls Teasing – Kari Sweets, Brooke Marks, Northwest Beauties, StasyQ, Bailey Knox And Hottest Webcams.